Vigils in Support of Refugees and Immigrants
April 28th, 2018: About 300 people participated in a rally at NORCOR April 28th, 2018 in The Dalles. We were protesting to show our Solidarity with immigrants illegally detained by ICE. The day was organized by IMIrJ (Interfaith Movement for Immigrant Justice). It began with an Interfaith Service of Faithful Resistance at St. Paul's Epsicopal Church in The Dalles with messages from a Buddhist, a rabbi and three clergy. The clergy visit detainees weekly and told us first hand accounts of the conditions inside NORCOR where some are held indefinitely. Many of the stories were heartbreaking such as a woman separated from her two year old son. Money was collected to defray the exorbitant cost of phone calls for the NORCOR immigrant detainees. We then proceeded to the vigil at the NORCOR facility. The vigil ended with a silent walk to the side entrance and then a series of group shout-outs. The detainees cannot see us but they can hear our chants and our presence helps them.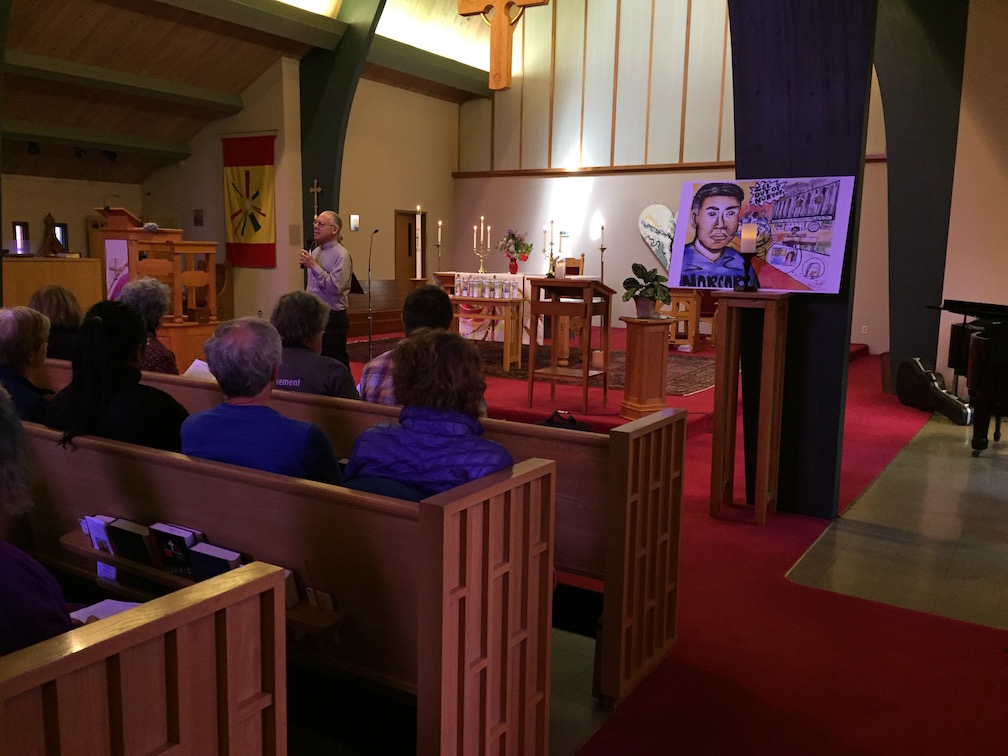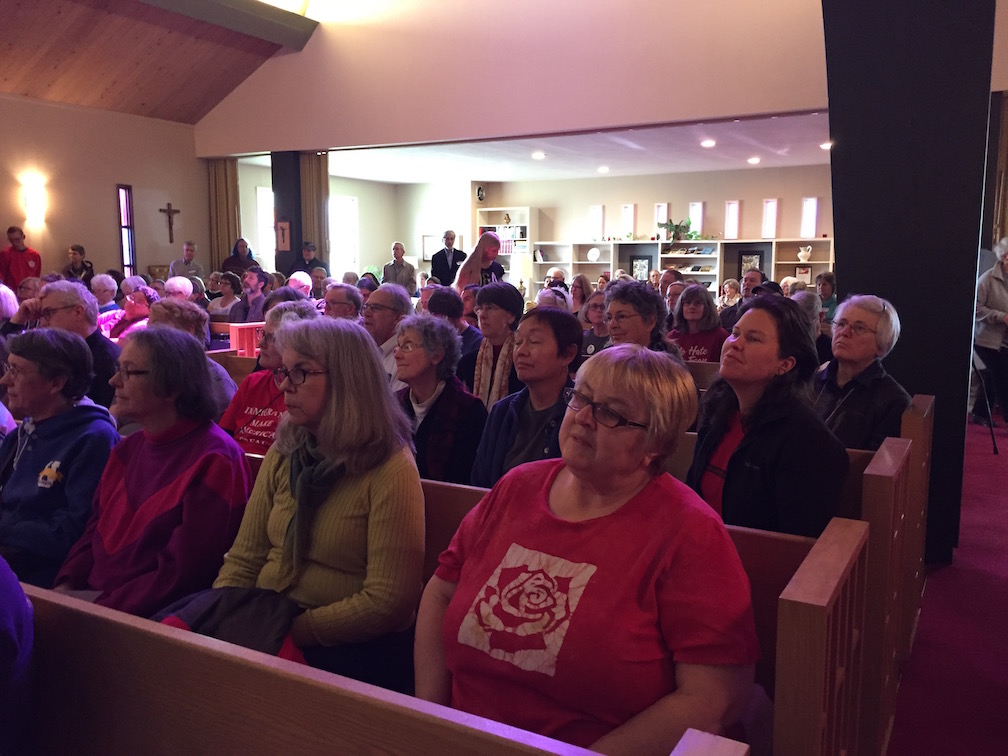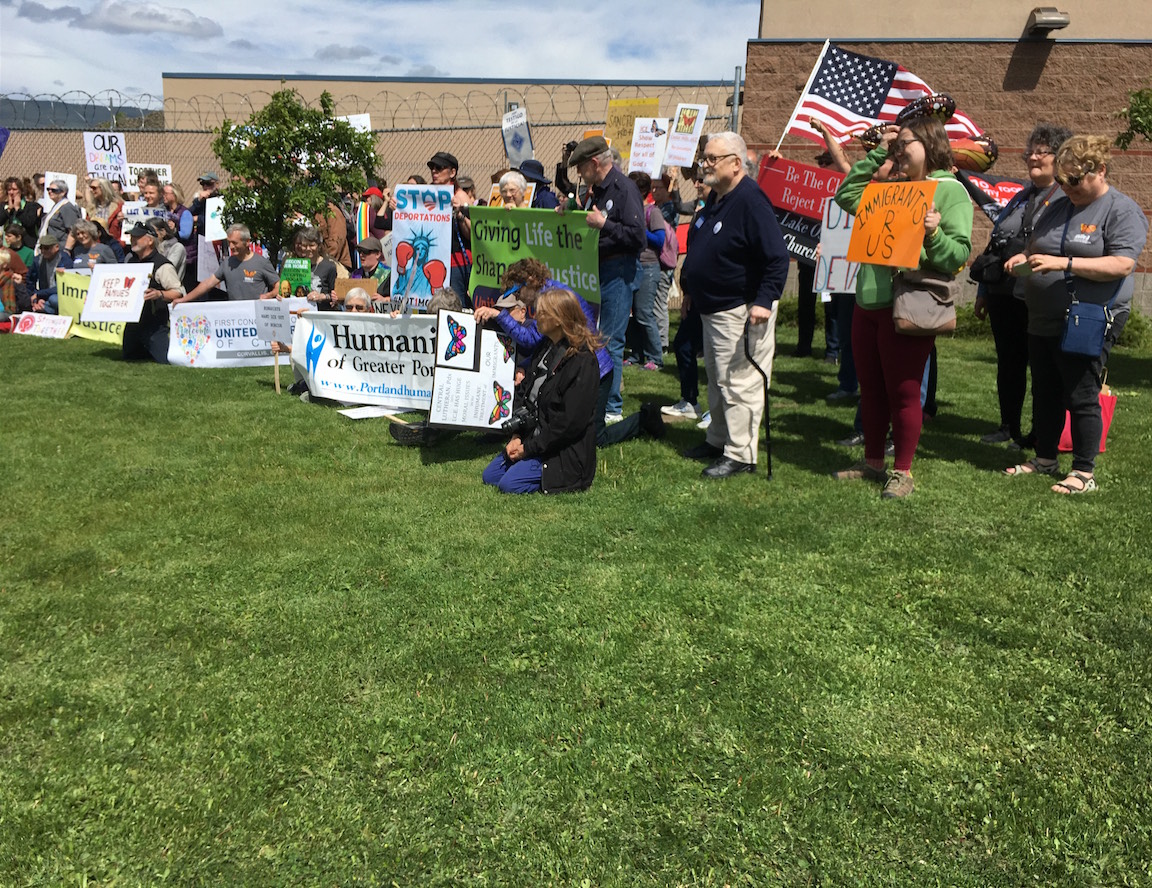 N0v. 5, 2017 : About 85 people participated in a rally at NORCOR N0v. 5, 2017 in The Dalles. We were protesting to show our Solidarity with about 20 people detained by ICE who were on Day 4 of a Hunger Strike asking for more humane conditions inside the county jail. Gorge ICE resistance organized the rally and includes several clergy from the area who spoke about individuals who they have gotten to know through visits. Only clergy and lawyers are allowed to visit. The people who are detained were seeking improved conditions such as warmer clothing, time outdoors, more affordable toiletries, free video calls with families, etc. The strike ended in the morning with some of their demands met including milk being served 5 days a week, a hot breakfast on weekends, 3 hours of free video calls per month, access to warm underclothes and shoes...
It was clear the importance of letting people inside know that those of us on the outside have not forgotten that they are there. We heard from multiple speakers that people who are detained feel completely powerless and are frequently held without information and often moved around to other locations without warning. When they know that people on the outside are working for justice on their behalf it brings hope into a dismal place. We at Bridgeport will keep working toward justice and putting political pressure on those who can make changes. We will keep them in our prayers and let them know they are not forgotten.